Video: Do You Want to Hear a Story?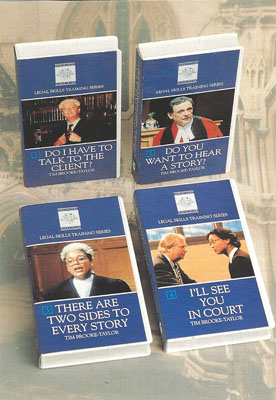 ISBN13: 9781854314598
ISBN: 1854314599
Published: June 1995
Publisher: Blackstone Press
Country of Publication: UK
Format: VHS Video
Price: Out of print

There is an increasing pressure on all professionals to be good communicators as well as good technicians. Yet many of the skills that enable us to interact successfully with people - personal communication, negotiation and interviewing - come from experience.
So, can experience be taught? Conventinal wisdom says 'no'. This new series of training videos from the Inns of Court School of Law sets out to prove otherwise.
With the dramatised examples used in these training videos, practitioners can begin to incorporate the 'golden rules' of communication in their own personal styles
Video 2. Do you Want to Hear a Story?
Video 2 looks at the basic skills of Advocacy through the vehicle of an Opening Speech for the Prosecution. Tim Brooke-Taylor continues his quest for knowledge and now takes on the role of a student attempting to learn the fundamental skills of advocacy.
The video reinforces the Message that these skills can be acquired and improved by training, observation and practice. The programme addresses many important points, including the importance of listening, the use of language, non-verbal communication, Structure, content, theory of the case ANd delivery.