Video: I'll See You in Court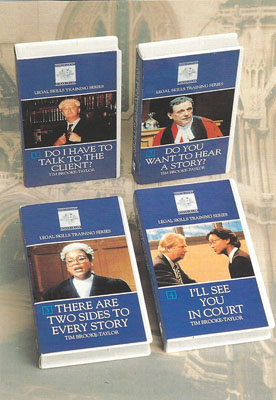 ISBN13: 9781854314611
ISBN: 1854314610
Published: June 1995
Publisher: Blackstone Press
Country of Publication: UK
Format: VHS Video
Price: Out of print

There is an increasing pressure on all professionals to be good communicators as well as good technicians. Yet many of the skills that enable us to interact successfully with people - personal communication, negotiation and interviewing - come from experience.
So, can experience be taught? Conventinal wisdom says 'no'. This new series of training videos from the Inns of Court School of Law sets out to prove otherwise.
With the dramatised examples used in these training videos, practitioners can begin to incorporate the 'golden rules' of communication in their own personal styles
Video 4. I'll See You in Court
Video 4: This video discusses what is required to be an effective negotiator. Tim Brooke-Taylor is joined by two barristers – one acting as his opponent and one as his instructor. As Tim attempts to reach a settlement on behalf of his client, he repeatedly finds himself tangled in some of the many difficulties and dilemmas involved in negotiating.
Learning from his own mistakes, the advice of his instructor and the example of his opponent, Tim reaches an agreement with his opponent that meets with the approval of his client and the judge.