The ICSA Company Secretary's Handbook 9th ed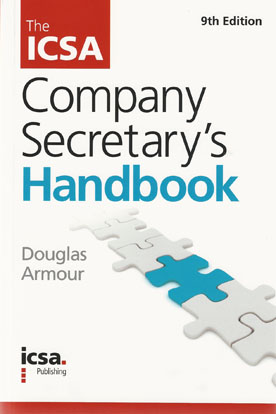 ISBN13: 9781860724749
Published: July 2012
Publisher: ICSA Publishing Ltd
Country of Publication: UK
Format: Paperback & CD-ROM
Price: Out of print

The ICSA Company Secretary's Handbook is a practical guide to the legislation and regulation governing companies and company secretarial procedures.
Coverage is comprehensive and details the procedures associated with boards of directors, company meetings, reporting, shares, and share registration. The Handbook also contains chapters on listed company compliance, corporate governance, company investigations, takeovers and mergers, and insolvency. Detailed commentary is accompanied by over 80 precedents, appendices, and a glossary of key terms and a directory of key company secretarial resources.
The new edition includes significant updates to the chapters on Corporate Compliance, the Listing Regime, and Corporate Governance to bring the text completely up to date.
The structure of the contents has been completely updated to sequentially reflect the order and layout of the Companies Act 2006.
Contains a CD-ROM of customisable precedents, as well as key reference material including links to Companies House forms, Model Articles, and core governance codes.
The Handbook is the essential companion volume providing in-depth commentary and analysis on all the procedural matters examined in the
The ICSA Company Secretarys Checklists
.