JCWI Guide to the Points Based System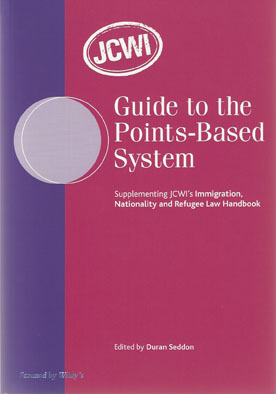 ISBN13: 9781874010074
Published: March 2011
Publisher: Joint Council for the Welfare of Immigrants
Country of Publication: UK
Format: Paperback
Price: £45.00

Despatched in 8 to 10 days.
The Points-Based System has been described by the Government as the "biggest shake-up of the immigration system for 45 years".
The PBS has transformed the operation of the immigration system in relation to entitlement to enter and remain in the UK, practice and procedure in making applications and methods of challenge. This book aims to guide migrants, those advising them and their sponsors in all the legal and practical aspects of using the new system.
JCWI's Immigration, Nationality and Refugee Handbook was readily adopted as the essential reference book by practitioners and remains the best selling guide in this field. Following that success JCWI is publishing The Guide to the Points Based System as a supplement to the handbook in a similar format and style. This will be a practical, accessible and comprehensive guide to the PBS. It is up to date to October 2010.
JCWI will endeavour to produce an update for the PBS guide to cover changes to the law introduced in 2011. Subscribers to the Guide will be able to purchase an update for a small charge.
JCWI's Guide to the Points-Based System is a new Handbook designed to help applicants, their advisers and 'sponsors' to get to grips with the new system for migration to the UK based on work, business and study. The Guide also covers similar routes that remain outside the PBS.
The Guide covers the following areas:-
The Road to the PBS - past and present migration policy in context
Overview of the new PBS and the allocation of points
Recent case law concerning the role of Policy Guidance under the PBS including the Pankina and English UK cases
How to make applications to enter, remain and 'switch' under the PBS
Qualifying and applying for sponsorship licences (employers and educational institutions)
PBS Tier 1: general, entrepreneur, investor, post-study work
PBS Tier 2: general. intra-company transfer, minister of religion, sportsperson
PBS Tier 3: incorporating temporary, quota-based schemes
PBS Tier 4: students
PBS Tier 5: creative/sporting; charity work; exchange; international agreements
Non-PBS work/study routes, including: business and special visitors, post­ graduate doctors/dentists, prospective students, sole representatives and concessions
General grounds of refusal under the Immigration Rules
Human rights under the PBS
Challenging decisions under the PBS, including: administrative review, appeals to the AIT, judicial review and discrimination remedies