Homelessness and Allocations 8th ed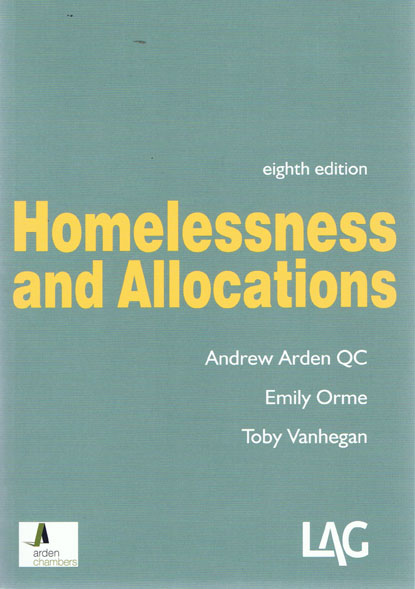 ISBN13: 9781903307748
Published: March 2010
Publisher: Legal Action Group
Country of Publication: UK
Format: Paperback
Price: Out of print

Homelessness and Allocations, now in its eighth edition, has established itself as the definitive guide to the rights of the homeless. Written by leading experts, its comprehensive and authoritative guidance makes it a crucial resource for all housing practitioners, advisers, local authorities and housing officers. The text clearly and succinctly sets the law in its context, and appendices reproduce the relevant consolidated legislation and guidance.
This new edition includes:
New Code of Guidance on Choice Based Lettings
The 2009 Code of Guidance on Housing Allocations
New Guidance on intentional homelessness and mortgage arrears
2009 Circular on Accommodation for ex-Armed Forces
Substantial revision of the coverage of allocations following the House of Lords decision in R(Ahmad) v Newham LBC
Complete revision of the chapter on immigration issues and expanded coverage of additional means of providing housing
Coverage of numerous other important decisions, including those of House of Lords in Holmes-Moorhouse v Richmond upon Thames LBC, Birmingham CC v Ali, Moran v Manchester CC and of the Supreme Court in Tomlinson v Birmingham CC.
Housing practitioners and advisers, local authority housing and homelessness staff and housing associations seeking authoritative, accurate and accessible guidance on local authority duties need look no further than
Homelessness and Allocations
.