The Lex 100: The Student Guide to The UK's Premier Law Firms 2013-2014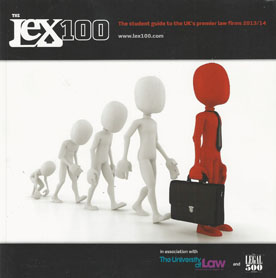 ISBN13: 9781906854805
Published: November 2013
Publisher: Legalease
Country of Publication: UK
Format: Paperback
Price: £9.99

The Lex 100 provides a truly comparative guide of the leading law firms for students based on the views of those who actually work there! It is an invaluable reference source for all those considering a career in law.
In compiling this title, over 3000 trainee solicitors and newly qualified lawyers in the UK were surveyed. Their views and comments have been worked into a concise and accessible guide, giving readers an insider's view of the legal market and advice on the best firms to work for.
Firms are ranked across ten different categories including overall job satisfaction, stress levels and friendliness, allowing readers to see at a glance where the firms score the highest and lowest. With the results expanded in other sections of the book, readers can easily assess and compare firms and what they have to offer, allowing them to make an informed decision on where to apply.
The book includes a section on how to apply, interview tips and what to be aware of in the application process as well as a law schools directory section and a compact guide to the GDL/LPC. There are also some helpful hints from leading recruiters on matters ranging from assessment days to getting the most out of law fairs.
This practical and user-friendly insiders guide tells readers everything they need to know at every stage of their legal education – from their first day on campus to making that final decision between those top law firms offering them a job!