Employment Law: An Adviser's Handbook 11th ed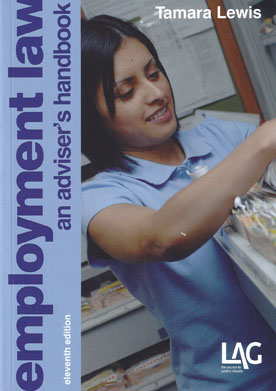 ISBN13: 9781908407627
Published: October 2015
Publisher: Legal Action Group
Country of Publication: UK
Format: Paperback
Price: Out of print

Employment Law: An Adviser's Handbook, now it its eleventh edition, is the definitive text on employment law for the adviser. It is uniquely focused on the claimant and covers the wide range of employment law problems in a clear and practical form. It aims to make this ever-evolving, and increasingly complex, area of law accessible to both employment law specialists and non-lawyers.
Employment Law: An Adviser's Handbook provides up to date coverage of UK and European employment and discrimination law. There is clear and succinct commentary on the rapidly growing body of case-law and thorough consideration of the relevant domestic legislation, EU treaties and directives.
There is step-by-step guidance for advisers running unfair dismissal and discrimination cases with as much space devoted to evidence, precedents and checklists as to setting out the law. Each chapter starts with a useful summary of key points and there is extensive cross-referencing throughout. The main text is supported by practical resources including sample case papers, a glossary and signposts to other sources of information.
Over the last five years, the government has systematically cut back on employment rights, as well as making radical changes to the tribunal system by removing non-legal members from unfair dismissal claims, introducing pre-claim conciliation and most devastatingly, charging fees. This edition aims to guide the adviser though all the recent changes and developments.
Employment Law: An Adviser's Handbook is the essential guide to employment law for all claimant advisers, trade union representatives, lawyers and any individual looking for a comprehensive, yet accessible, guide to employment law.
Tamara Lewis is an acknowledged employment law expert with an in-depth understanding of the needs of advisers and trade union representatives.