Court of Protection Handbook: A User's Guide Revised 1st ed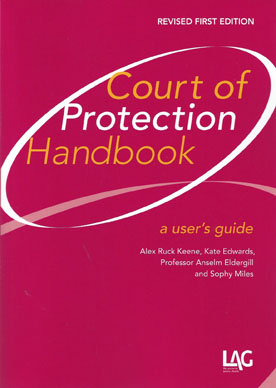 ISBN13: 9781908407658
Published: November 2015
Publisher: Legal Action Group
Country of Publication: UK
Format: Paperback
Price: Out of print

This revised first edition has been updated to include the consolidated Court of Protection Rules as amended by the Court of Protection (Amendment) Rules 2015. There is supplementary commentary from the authors highlighting the key changes brought about by the amendments to the Rules.
Court of Protection Handbook: A User's Guide is the first book to address in detail the practice and processes of the Court of Protection – across the whole range of its work – in terms that are aimed not solely at lawyers but also to the increasing numbers of people who either by choice or otherwise are involved in proceedings before the Court of Protection without legal help.
The book provides an overview of the Mental Capacity Act 2005 and the Court of Protection, before turning to a step-by-step guide through the processes of preparing and making an application, funding and representation issues, preparing for and appearing at hearings, evidence, costs, enforcement and appeals.
Specific topics that arise in connection with the Court of Protection such as applications made in relation to the Deprivation of Liberty Safeguards (DOLS), the role of the Public Guardian, medical treatment cases and cross border matters are given detailed treatment and the main text is supported by a wealth of supplementary materials: legislation, guidance, precedents, sample orders and useful addresses.
Court of Protection Handbook is comprehensive yet accessible. Complex issues are explained clearly and succinctly with the helpful use of tables, flow-charts and other diagrams.
Readers also have access to courtofprotectionhandbook.com which provides regular updates on practice and procedure before the Court of Protection cross-referenced to the relevant parts of the book, together with links to all the relevant statutory materials and guidance.