CPAG: Welfare Benefits and Tax Credits Handbook 2017/2018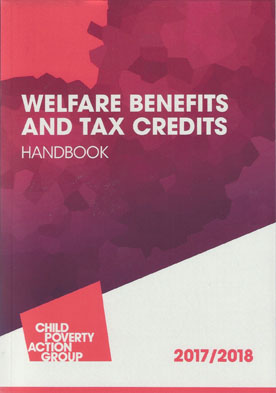 ISBN13: 9781910715239
Published: April 2017
Publisher: Child Poverty Action Group
Country of Publication: UK
Format: Paperback
Price: £61.00

This annual Handbook provides the most comprehensive coverage available of all social security benefits and tax credits. The book is fully indexed and cross-referenced throughout to the relevant legislation. It covers England, Scotland, Wales and Northern Ireland.
Users include welfare rights advisers, lawyers, social workers, housing and benefits staff in local authorities, health visitors, union officials and claimants. The Handbook is supplied to all Citizens Advice Bureaux as part of their standard information package.
Benefit rates and regulations are changed every April, which means that anyone needing reliable and up-to-date guidance will need to replace their old edition with this fully revised April 2017 edition. This Handbook is the only one to be published at the same time as the new benefit rates and regulations come into force – thus giving readers a full twelve months of usage.
The Handbook is written by a panel of 11 welfare benefits specialists, of whom around half work at CPAG.