Comparison of International Arbitration Rules 3rd ed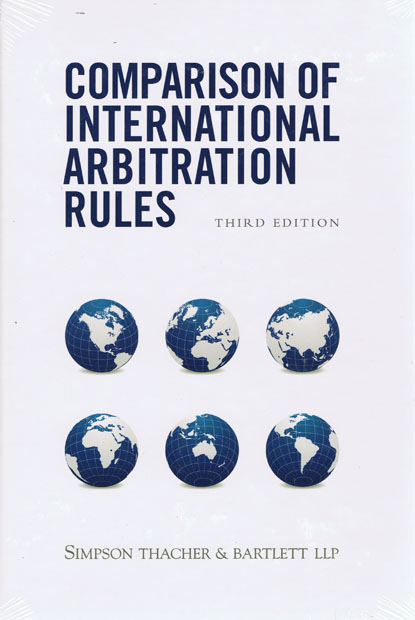 ISBN13: 9781933833194
Published: September 2008
Publisher: Juris Publishing
Country of Publication: USA
Format: Hardback
Price: Out of print

This chart comparing the provisions of the leading sets of international arbitration rules was first created by the International Arbitration Group of Simpson Thacher & Bartlett as an internal reference tool. The Comparison of International Arbitration Rules 3rd Edition will be of great use in four distinct areas of international arbitration practice. First, in assisting clients in selecting arbitration rules and drafting arbitration provisions for their international commercial contracts. For example, where a client seeks to include a provision governing a specific procedural issue in an arbitration clause, the chart provides easy reference to the different provisions used in the leading sets of international arbitration rules.
Second, the chart has served a similarly useful function in connection with advice that might be provided to foreign governments in preparing their national legislation concerning international arbitration. Third, the chart will assist in developing arguments on procedural issues in connection with representation of clients in international arbitration proceedings. Finally, comparison will facilitate evaluation by scholars, practitioners and the institutions themselves of the desirability and effectiveness of particular provisions in light of comparable ones. By publishing this chart, the authors hope to share these benefits with users of international arbitration, practitioners, legislators and academics alike.
The authors considered various factors in deciding which sets of international arbitration rules to include in the chart. The International Chamber of Commerce ("ICC"), American Arbitration Association/International Center for Dispute Resolution ("AAA/ICDR"), London Court of International Arbitration ("LCIA"), Stockholm Chamber of Commerce ("SCC") and International Center for Settlement of Investment Disputes ("ICSID") rules are included as leading sets of institutional international arbitration rules. Other institutional arbitration rules are not included simply for reasons of manageability and space. The international arbitration rules of the United Nations Commission on International Trade ("UNCITRAL") and the Center for Public Resources ("CPR") are included as the preeminent sets of ad hoc international arbitration rules.
In this third edition, the authors have made three principal changes. First, they have updated the chart to reflect amendments made since 2002 to the sets of rules included. Second, they have added the ICSID arbitration rules, which are increasingly being used for investment disputes under bilateral investment treaties. There have been corresponding revisions to the Index of topics to facilitate locating subjects in the rules, as well as the Appendices containing the full texts of the sets of arbitration rules included in the chart.
Whether you are drafting an agreement or selecting procedures or a site, this unique time saving tool will simplify your task.