Separate Financing of Aircraft Engines: Legal Obstacles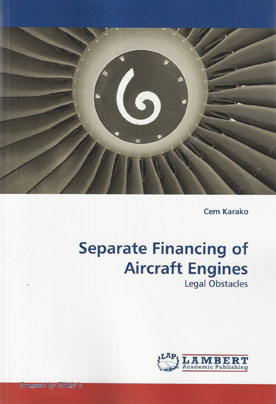 ISBN13: 9783838347653
Published: August 2010
Publisher: LAP LAMBERT Academic Publishing
Country of Publication: Germany
Format: Paperback
Price: £40.00

Despatched in 5 to 7 days.
Aircraft engines are regarded as the most valuable component part of the aircraft, whereby they can be easily detached from the aircraft and be affixed to another aircraft in a very limited period of time. As a result of aviation practice, engines may be also financed separately than the aircraft.
However, considering the extremely movable character of engines, security rights created on engines have been subject to a strong legal debate over the last few years. More specifically the primary issue is how it will be legally possible to protect the title holder of the engine or the creditors' rights towards third parties.
This book analyses the legal difficulties in creating security rights on engines with great focus on the application of the accession rule to engines, whereby the title to the aircraft might be extended to the engine as soon as it will be attached to the aircraft.
It should be noted that in this book, the legal status of aircraft engines have been analyzed in the light of three jurisdictions; namely German, Dutch and Turkish as well as in regard to international conventions regarding security rights in aircraft.
NB: Consists of 75 pages.