Klaus Vogel On Double Taxation Conventions 4th ed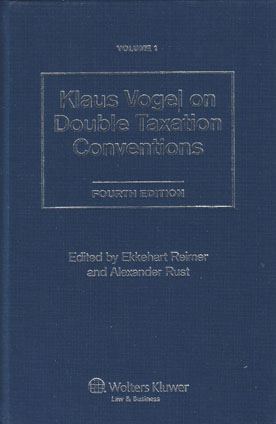 ISBN13: 9789041122988
Published: February 2015
Publisher: Kluwer Law International
Country of Publication: The Netherlands
Format: Hardback, 2 volumes
Price: £320.00

Despatched in 7 to 9 days.
Wildy's Book of the Month: March 2015
This market leading work is now in its 4th edition, and in two volumes. The editors, Professors Ekkehart Reimer and Alexander Rust, have worked with the late Professor Vogel as well as a new international author team to completely update and enhance the content. Klaus Vogel on Double Taxation Conventions now has more than 2,000 pages of information.
Key Features include:
Provides deep analysis of the OECD and UN model, as well as the implementation of these models in practice.
Covers a full range of tax treaties, including important treaties between OECD and BRICS countries.
References to the latest tax treaty case law from all around the world.
Key Benefits include:
The book has an easy-to-use structure. It follows the OECD Model convention, and marginal numbers and cross-references immediately point the reader to the relevant paragraphs
In addition, answers can be found via the very detailed keyword index.
This new edition is even more international, covering case law and legislation of all major countries. The general section and the commentaries have been updated with current topics, and up-to-date country practice information.
Main countries covered:-
Austria,
Brazil,
Canada,
France,
Germany,
India,
Japan,
Netherlands,
Switzerland,
United Kingdom, and
United States.
Klaus Vogel on Double Taxation Conventions
4th edition is the only complete guide to all legal issues DTCs raise, including information on worldwide case law and commentators' views.