The Rule of Law in Japan: A Comparative Analysis 2nd ed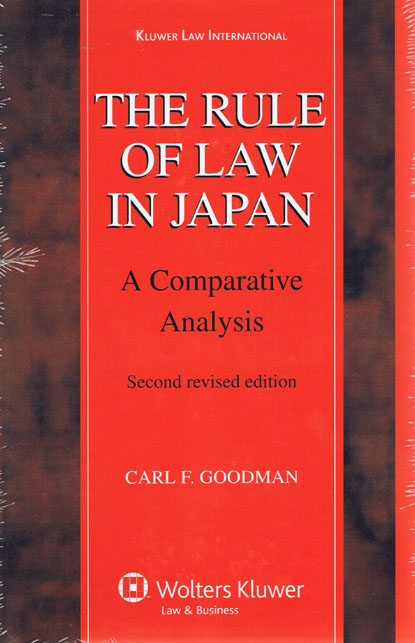 ISBN13: 9789041127501
Published: July 2008
Publisher: Kluwer Law International
Country of Publication: The Netherlands
Format: Hardback
Price: Out of print

For five years now practitioners who deal with Japanese law have put great store by the first edition of this major work, which systematically compares US law and Japanese law across all the major fields of legal practice. In the last few years, however, Japan's legal system has changed dramatically.
The Recommendations of the Judicial Reform Council have spurred both legislation and Supreme Court decisions in such diverse areas as family law, labour law, discrimination, the right to vote, hostile company mergers, documentary evidence in litigation, judicial review, freedom of religion, and much else. This new edition follows the same comparative structure as formerly, but fully updates the coverage with the many changes currently in place or in process in Japanese law today.
Author Carl Goodman-an internationally known authority with extensive experience in international practice, university teaching in both Japan and the US, and US government service in Japan-takes expert stock of these new developments, including the following:-
liberalization of corporation law--outside directors, use of stock options, hostile mergers, poison pill legislation and guidelines;
the new system of lay/professional judges;
the liberalization of the rules under which parties to litigation may be required to produce documents previously off limits;
certain categories of "indirect discrimination" and the limitations on conduct that can be so defined; vhe complete revamping of the education system for lawyers;
the new Labour Court designed to settle employer/employee disputes more quickly and effectively;
the increased extent of a news reporter's privilege not to disclose sources;
legislation designed to protect spouses from spousal abuse;
new criminal law on police interrogation techniques;
growth in judicial review including Constitutional and Administrative cases;
and family law-surrogacy, adoption, international custody and differences in the definition of "spouse" for various purposes.
Although the alteration of the legal landscape in Japan is highly visible, the author does not hesitate to raise questions as to how far-reaching the changes really are. In almost every branch of the new Japanese legal practice he uncovers ways in which laws and judicial rulings are closely qualified and are likely to present challenges in any given case. He reminds the reader in each chapter that A"what you see may not be what you get.A" For this reason, and for its comprehensive coverage, this second edition is sure to gain new adherents as the best-informed practical guide for lawyers with dealings in Japan.