Aircraft Operating Leasing: A Legal and Practical Analysis in the Context of Public and Private International Air Law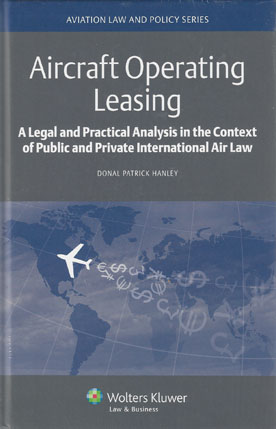 ISBN13: 9789041140456
Published: August 2012
Publisher: Kluwer Law International
Country of Publication: The Netherlands
Format: Hardback
Price: Out of print

The aim of this book is to examine the aircraft operating lease from both a practical and legal point of view. In particular, to contextualise it in light of both public and private international air law.
This is done by examining, from a legal perspective, a typical lease transaction from the start of the deal through to execution of the documentation, discussing not only the typical issues that arise and their resolution, but the legal reasons underlying them.
With an operating lease, the lessor expects to receive the aircraft back while it still has a useful economic life and thus will be more concerned as to the physical condition of the aircraft. This is contrasted with finance leases and other forms of financing, where the lessor does not expect to receive the aircraft back and is more concerned with the creditworthiness of the lessee.
Each section of a typical lease is analysed in depth in turn, in the context of applicable public and private air law instruments, statues, regulations, case law and academic literature.
The study concludes with a synthesis of practice and law with respect to the aircraft lease. Further, this author makes certain recommendations with respect to practice and law in this increasingly important area of air law.