Materials on International, TP and EU Tax Law 2015-2016: Volume 1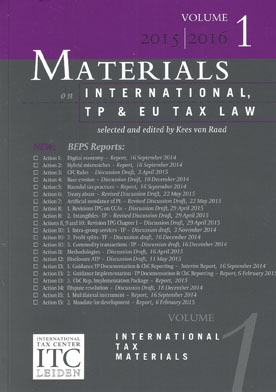 ISBN13: 9789081583350
Published: September 2015
Publisher: International Tax Centre Leiden
Country of Publication: The Netherlands
Format: Paperback
Price: Out of print

The first volume focuses on international tax law materials. On the basis of the 2014 version of the OECD Model Convention comparisons are included with the 1963 OECD Draft Convention, the 2011 UN Model and the 2006 US Model.
The OECD Model itself, the Introduction to this Model and the OECD Commentary are presented in a way in which the successive changes, additions and deletions that were made to the 1977 text in 1992, 1994, 1995, 1997, 2000, 2003, 2005, 2008, 2010 and 2014 can be readily identified. This volume also includes the ASEAN and Dutch Model income tax treaties.
In addition to these Model texts, various OECD discussion drafts with proposed changes to the OECD Model and/or Commentary have been included, along with a series of OECD reports (including the 1999 Partnership Report and the 2010-2013 version of the Transfer Pricing Guidelines).
This year also full text versions have been included of the large number of BEPS action reports that have been published since September 2014 under the OECD/G20 BEPS initiative.
This 15th edition includes brief surveys of the tax systems of 28 countries.
Volumes 2 & 3 will be published for Tax Year 2016/2017 in November.