O.P. Malhotra on the Law and Practice of Arbitration and Conciliation 3rd ed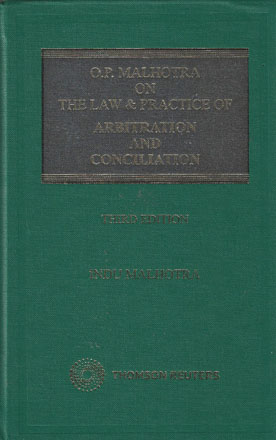 ISBN13: 9789381082744
Published: April 2014
Publisher: Thomson Reuters India
Country of Publication: India
Format: Hardback
Price: £69.00

Usually despatched in 1 to 3 weeks.
The third edition of O.P Malhotra on the Law and Practice of Arbitration and Conciliation, written by Indu Malhotra, is a comprehensive treatise on the Indian Arbitration and Conciliation Act 1996.
The book has been cited as an authority in various judgments of the Indian Supreme Court. The third edition of the book provides a critical analysis of the recent judgments delivered by the Supreme Court up to January 2014.
The new edition contains additional chapters on new and contemporary topics, such as International Treaty Arbitration and Anti-Arbitration Injunctions. These topics are of contemporary relevance in view of a spate of claims having been raised recently against the Indian Government.
The book has explained the concept of Bilateral Investment Treaty, and has carried out a critical analysis of the White Industries case. It is the first book by an Indian author on the subject of Investment Treaty Arbitration. The book has also analyzed the concept of Anti-Arbitration Injunction, and its application in terms of domestic and foreign arbitrations.