An Introduction To Commercial Law In Nigeria: Text, Cases & Materials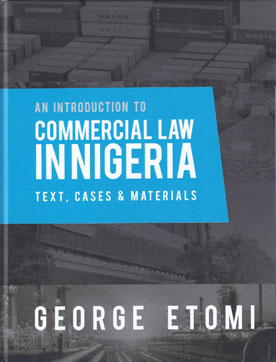 ISBN13: 9789789381142
Published: February 2014
Publisher: MIJ Professional Publishers Ltd.
Country of Publication: Nigeria
Format: Paperback
Price: £35.00

Usually despatched in 1 to 3 weeks.
The historical background of Commercial Law and Practice in Nigeria can be traced to colonial times, and many of the laws and principles that govern this area of law are rooted in English law and practice. However, the past few decades have also produced influential home-grown legislations, policies and case law that have provided the basis for a context-specific system.
Therefore , a study of Nigerian commercial law delivers a mix of British statutes and case law as well as Nigerian statutes and case law. In addition to this, global and foreign systems have also influenced national law and practice, providing a rich cosmopolitan construction.
An Introduction to Commercial Law in Nigeria provides the student and practitioner with a basic framework for learning, understanding, and remembering the principles that govern commercial law and practice in Nigeria. It covers substantive areas such as the Law of Contracts and Intellectual Property Law, which have their historical foundation in Nigeria's colonial heritage and it also covers emerging areas of commercial law such as Anti-Corruption Law and Competition Law.
This book provides a solid foundation that the reader can build on by making further reference to the hundreds of material referenced. The following features makes this book an easy read:-
Learning Objectives and Outcomes
Introductory Summaries
Nutshell Boxes
Colour Coded Quotes, Excerpts and Citations
Concluding Summaries