Encounters with Singapore Legal History: Essays in Memory of Geoffrey Wilson Bartholomew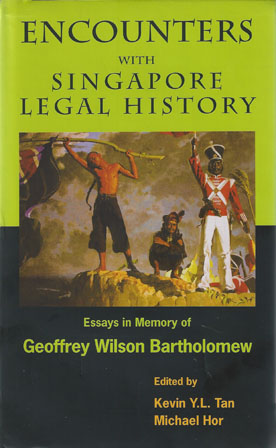 ISBN13: 9789810820169
Published: June 2011
Publisher: Singapore Journal of Legal Studies
Country of Publication: Singapore
Format: Paperback
Price: £61.00

Usually despatched in 1 to 3 weeks.
Even though Singapore's recorded legal history is brief - starting as it does from the time of British colonization in 1819 - it is a fascinating one. From its earliest days, Singapore's rulers - colonial and post-colonial - have seen law as an instrument for social change and transformation.
The structure of the modern Singaporean family has been shaped by law, as has its built environment and heritage. Despite this legacy, legal history is one of the most neglected facets in the education of the Singaporean lawyer. Regrettably, many see history as a se-ries of dates and events about things they don't care and about and people they have never heard of.
Yet, lawyers constantly search through databases and law books of a bygone era for suitable precedents with which to argue and win their cases, constantly tapping into this aquifer of historical and judicial wisdom.
This collection of essays is dedicated to the memory of the late Professor Geoffrey Wilson Bartholomew, the most important post-War historian of Singapore's legal history. Starting out primarily as a commercial lawyer, Bartholomew became fascinated by the question of the reception of English law in Singapore and there-after, tracing the applicable laws of the land.
Even though he spent only 13 years living and teaching in Singapore, Bartholomew spent a life-time studying Singapore's legal system and history. Anyone hoping to understand the workings of Singapore's legal system and legal history cannot help but encounter the name of Bartholomew at some point. We certainly have and to him, we are eternally grateful.