British Rule in China: Law and Justice in Weihaiwei 1898-1930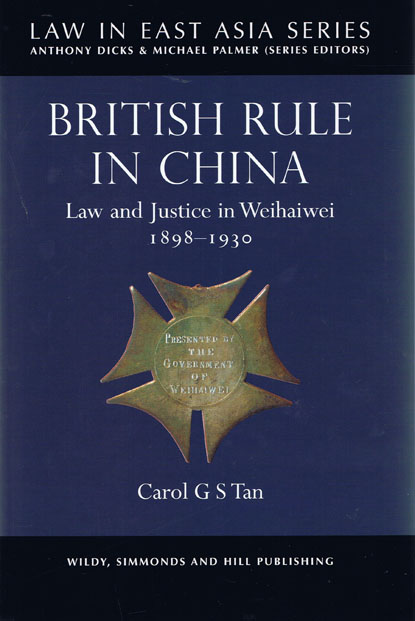 ISBN13: 9780854900268
Published: August 2008
Publisher: Wildy, Simmonds and Hill Publishing
Country of Publication: UK
Format: Hardback
Price: £45.00

Despatched in 4 to 6 days.
"Carol Tan's book is a valuable legal history ... the author should be commended for advancing our understanding of the history of Sino-British relations, British colonial justice and the law and empire in general" Law and History Review
"...a concise history of British rule in Weihaiwei...Dr Tan's book on the British rule in Weihaiwei focusing on its legal structures, implementation, and the people at the centre of this development is a thoroughly researched, meticulously constructed, and interestingly argued monograph...she has done a remarkable job." Hong Kong Law Journal
Written using official records and other sources, British Rule in China is the first systematic account of the legal history of Weihaiwei, a small territory leased by China to Britain in 1898. It is a fascinating and accessible account of the territory's constitution, laws, courts, judges and magistrates, penal policy, and police force.
The book explores the various problems and controversies faced by the local authorities in administering justice as well as their attempts to resolve them. The author argues that, as originally conceived, Weihaiwei's legal system made few concessions to the fact that the territory remained a part of China yet, in practice and for reasons which are explored in the book, it integrated some aspects of Chinese institutions, law and custom.
Given the centrality of the law, its institutions and its officials to the exercise of British jurisdiction, this work is a contribution not merely to colonial legal history but also to the history of this part of China under foreign rule. Part of Law in East Asia Series.