To Serve the Enemy: Informers, Collaborators, and the Laws of Armed Conflict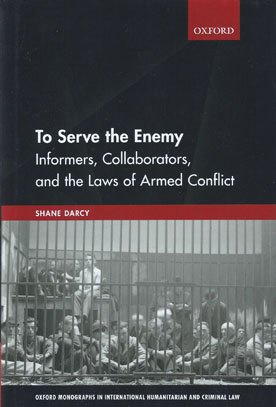 ISBN13: 9780198788898
Published: October 2019
Publisher: Oxford University Press
Country of Publication: UK
Format: Hardback
Price: £80.00

Despatched in 5 to 7 days.
A constant yet oftentimes concealed practice in war has been the use of informers and collaborators by parties to an armed conflict.
Despite the prevalence of such activity, and the serious and at times fatal consequences that befall those who collaborate with an enemy, international law applicable in times of armed conflict does not squarely address the phenomenon. The recruitment, use and treatment of informers and other collaborators is addressed only partially and at times indirectly by international humanitarian law.
In this book, Shane Darcy examines the development and application of the relevant rules and principles of the laws of armed conflict in relation to collaboration. With a primary focus on international humanitarian law as may be applicable to various forms of collaboration, the book also offers an assessment of the relevance of human rights and considers how the phenomenon of collaboration has been addressed post-conflict.